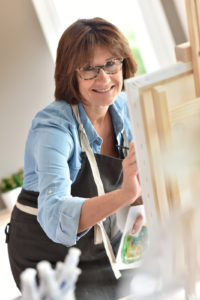 Acrylic Painting Lessons for beginner and intermediate level adult artists.
Classes meet in my home studio in Frisco and are kept small with no more than 5 students.

Workshop price $125.

All supplies included except a 16×20 canvas.  Bring canvas to class when you come.
To  register click on "add to cart". Payment is through PayPal.
Acrylic Painting Workshop

Settle your spirit with a January painting workshop after the holidays.  Come paint with us!
Adult Painting Workshop, January 3, 4, 5, 1pm-3:30pm
If you have additional questions please go to: Contact
Back to Home Page:  The Artist Experience